Holistic therapy 1:1 sessions
These sessions are specially designed for women and men who are looking to make an impactful transformation in their lives, looking for a new path to follow, a different way of doing things or a change of pace. The sessions are designed to help people connect with their unique inner truth to place them where they have to be in their own life. It may be likely to appeal to those aged 18-45 but it can be for any age!

Sometimes a change of perspective on our habits, the way we eat, the way we think about ourselves, the things we tell ourselves internally, or even in our connection with our body, can radically change the whole outlook of our life purpose.
In this exploration of self, you will work 1:1 with Luciana to gain deeper insight into the way in which you navigate your daily life and relationships, based on your natal chart and your Ayurvedic complexion (Prakruti).
Luciana will provide an analysis of your astral tendencies, a reiki healing session, a regimen of nutrition or herbal options personalised to your Ayurvedic complexion or your astrological tendencies, an oracle reading, and a recommended practice of movement or meditation to incorporate into your daily routine.
She suggests that you participate in at least 3 sessions (1 session every 2 weeks) to complete an initial treatment and fully integrate all of the information you will receive. You can continue the sessions fortnightly indefinitely for as long as you consider necessary.
Sessions can be held remotely or in person.
Cost & Payment
£65 per session (1 hour) or £175 in advanced for 3 sessions
Sessions are paid in advanced by bank transfer to:
Revolut (for GBP payments)
Beneficiary: Luciana del Palacio
Account: 37383086
Sort Code: 04-00-75
Payment plans and payment in cash available by request.
Luciana also offers online classes and sessions: yoga 1:1s or groups, Tarot readings, Reiki Usui attunements levels I, II & III, Introductory course to Plant Alchemy.
New: group herbal therapy exploratory sessions
Luciana will offer an Introductory Plant Alchemical class + Meditation for those interested in learning more about plant medicine with an Alchemy approach. Dates to be confirmed.
The first workshop will share introductory information on history of plant alchemy and symbology and meaning of this practice, and how the process of creating your own plant medicines can heal the body, the mind and the soul.
The goal of this workshop is to explore plant medicine through a new lens, where the plants are allies in our path of growth and discovery of Self.
Contact Luciana for more details to info@medicinaesiderum.com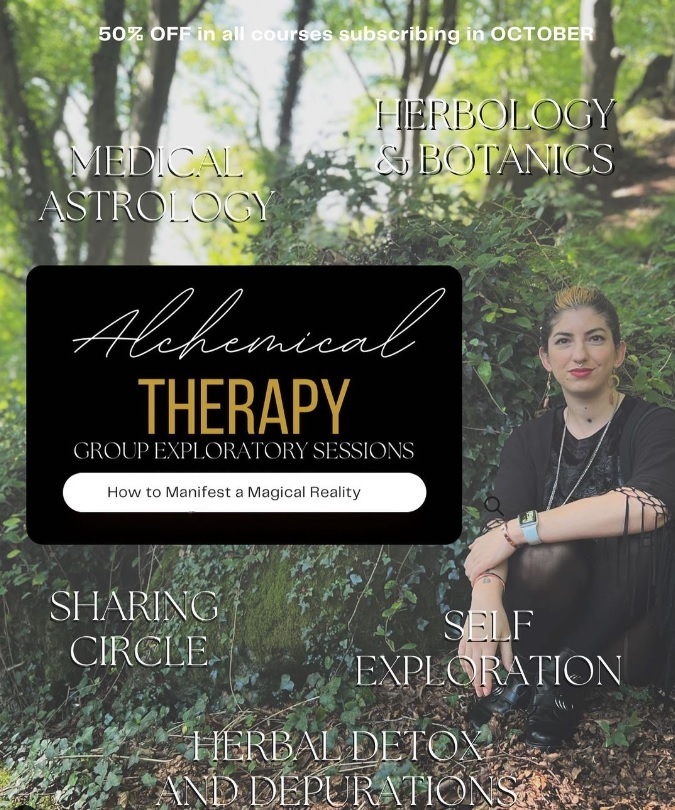 About Luciana
Luciana is a holistic therapist and herbalist, and a practitioner of plant alchemy and plant spiritual medicines.
She began her training with four years at the Shaolin Temple, Argentina which included a level of therapeutic yoga (elderly, pregnancy, recovery from injury, Thai and oil ayurvedic massage) and a level of Yoga Instructors Trainer, teaching yoga instructor programs to new trainees with the backup of the Temple. Her training to deal with groups of new yoga trainees included aspects of psycho-emotional studies with psychotherapists, anatomy with health professionals, ayurveda, astrology and introductory study of the Vedas which helped her to share a nurturing space for the students to grow as yoga instructors. This is when she also became a 4th degree Reiki Master and has used Reiki healing and started sharing the 4 Attunements of Reiki ever since.
Deciding to focus on Ayurveda and herbalism, Luciana completed a one year Ayurvedic health and nutrition course, and a two year plant alchemical mentorship under Prof Julio Azcoaga at Fundación Hampatu and privately.
Collecting these experiences she created her School-Apothecary, Medicinae Siderum, with herbal medicine formulas for physical and energetic health balance and holistic skin treatments, and offers on different courses on Herbal Medicine. You can read more at www.medicinaesiderum.com
Luciana continues learning: in 2020 she began her diploma in Medical Astrology, and Magic and Medicine of Ancient Egypt. Now based in the UK, she is insured for Ayurvedic nutrition & lifestyle consultation, yoga teaching, energy healing and herbalism in line with her qualifications.