We at Maitri Studio are very excited to be joining Ulster University (UU) to support a fundraising event for their Mind Your Mood campaign, providing mental wellbeing help and advice for students and staff across UU.
On Friday 3rd May, we ask if you can rise to the challenge of 108 sun salutations! And if that seems a bit too much, then make it teamwork and join a relay version of 6 people x 18 sun salutations each, or 3 people doing 36 rounds each, or indeed just as many as you fancy! As you can see from the pictures below we have lots of options to modify the practice, including for people needing to be in, or holding, a chair. You can raise sponsorship money or simply join in for the fun and make a voluntary contribution on the day. Register online via the UU website.
You'll need to get some practice in between now and then. Here are some studios and classes where you can either attend a regular class including some sun salutations.
Not your thing? You could still sponsor us! https://www.justgiving.com/fundraising/maitri-studio-uu108
BELFAST/JORDANSTOWN & SURROUNDING AREA
Maitri Studio, Belfast

Claire, Maura, Andrew and Louise - will include sun salutation practice in all beginners and general classes (not gentle) throughout April
Rachel - will be including sun salutation practice in all general classes Mondays 5.45pm and Wednesday 7.30pm throughout April and May until the challenge

Steven - includes surya namaskar in regular classes

Nidhi - includes sun salutations in both Wednesday 8.30pm and Saturday 9am classes every week

Tomek - Tuesdays 5.45pm - has surya namaskar in every class

Danielle - Tuesdays 7.30pm - vinyasa flow based around sun salutations anyway & Danielle regularly goes through the basics
Oonagh - another vinyasa flow teacher so included in classes, Wednesday 7.30pm
Open practice Tues 7.30-9.30 and Thur 3.30-5.30 - Claire will be doing a few rounds each session - turn up and join in.

YogaQuarter, Belfast - as a vinyasa flow style there are sun salutations in class anyway, and soon YQ will have specific practice classes which we'll post here, as they're doing 108 sun salutations for midsummer too!

YogaLoft, Carrickfergus - Lisa, Siri and the team are getting on board and will include some sun salutation practice - contact them for classes
Jeanette Harrison, Jordanstown - Wednesdays 5.30pm at ClubHouse in Jordanstown campus sports centre, a gentle class but she can point you in the right direction
Ita Manderson, Hillsborough - as her regulars will know, already a keen advocate of sun salutations in classes!
COLERAINE/NORTH COAST AREA

DERRY for MAGEE

We have made some videos to help you practice, showing some suggested standing and seated modifications: view on our YouTube channel. We'll be doing the challenge to the Kai Franz sun salutation music - note that they count rounds as one on each side (R leg, L leg). We're counting that as two rounds, so the linked track is six in total.

Perhaps you've never tried yoga, or don't fancy the sun salutations? Then instead you can attend one of the free taster classes which will be held at each venue and held at 10.30-11.15am, 12.30-1.30pm and 4-5pm. Donations towards the Mind Your Mood cause gratefully accepted. You also need to register online via the UU website. Read about these classes and which teachers are offering them in this article.

Both the challenge and the classes will be offered at all four campuses: Belfast, Jordanstown, Magee and Coleraine.
Practice pictures below kindly drawn for us by yoga teacher and artist Tory Campbell.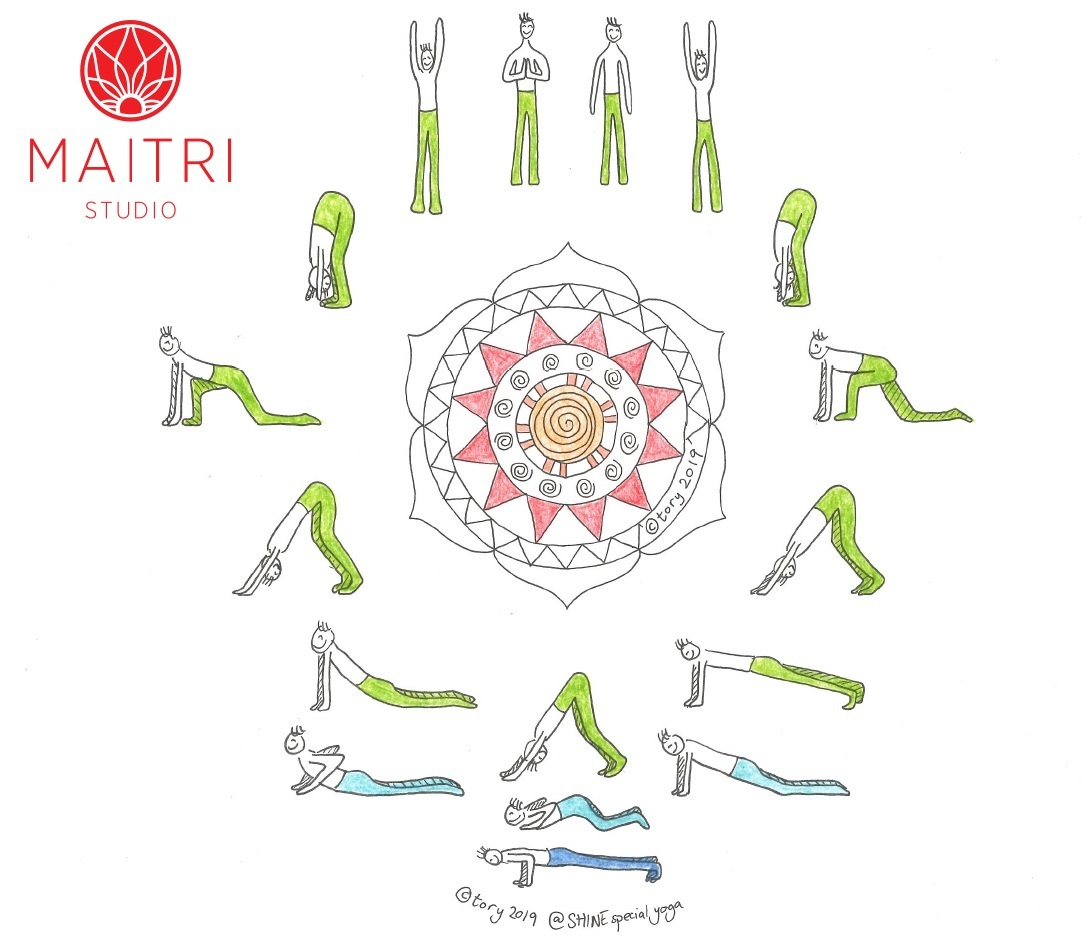 Mandala of standing sun salutation with modifications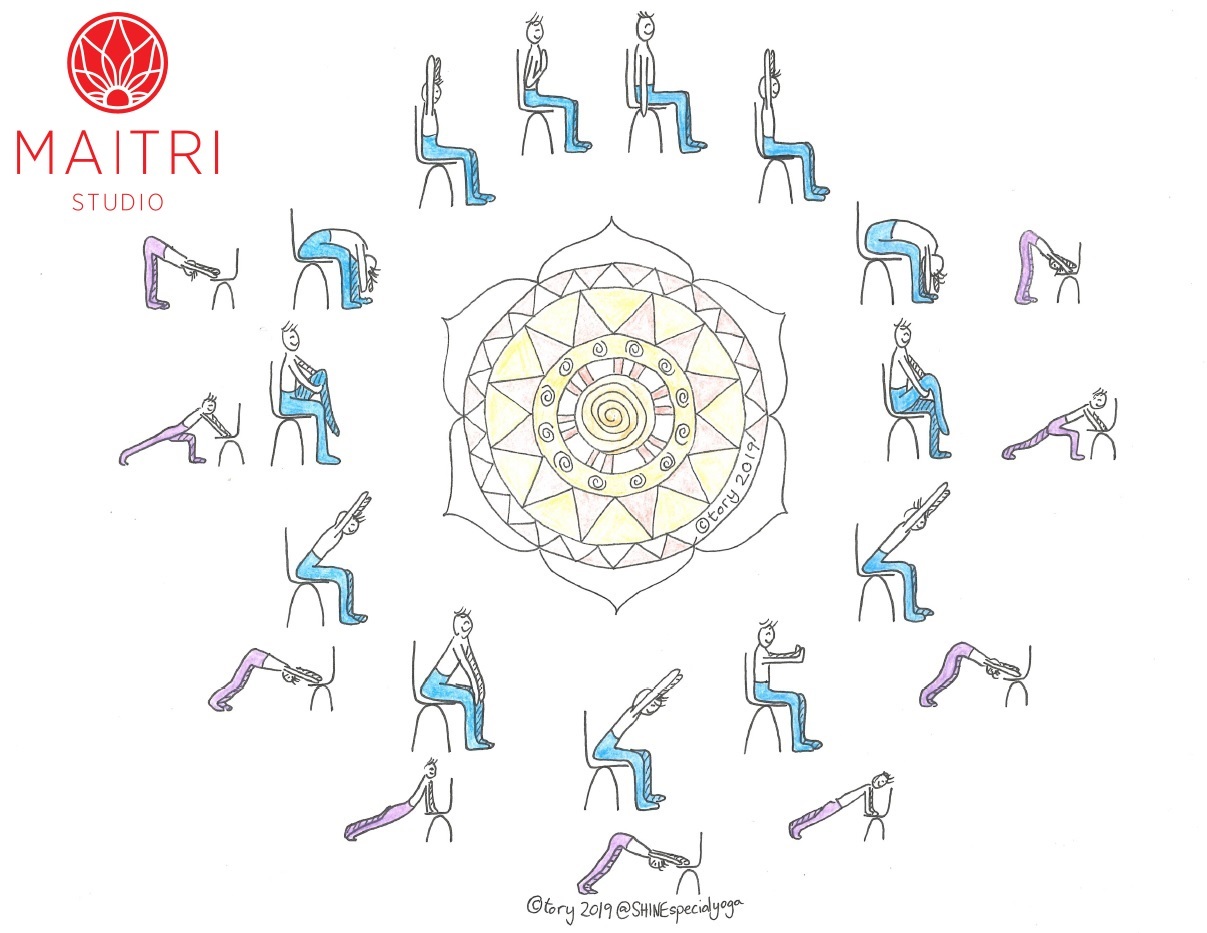 Mandala of chair-based sun salutation with modifications