Biodynamic craniosacral therapy is a powerful touch therapy that supports the body's physiology to self-regulate. The clinics are open to anyone.

A treatment lasts 45 minutes and costs £30.
The 2017 clinic dates are:
24th May
28th June
19th July
16th Aug
13th Sep
11th Oct
15th Nov
13th Dec
Contact Gareth on info@garethjtoner.com to book a session.
The therapist offers embodied presence supported via non-doing touch. The body's own priorities for change are listened for and encouraged to arise. The art of the therapist is to connect with the underlying forces of health and facilitate a process of natural reorganisation.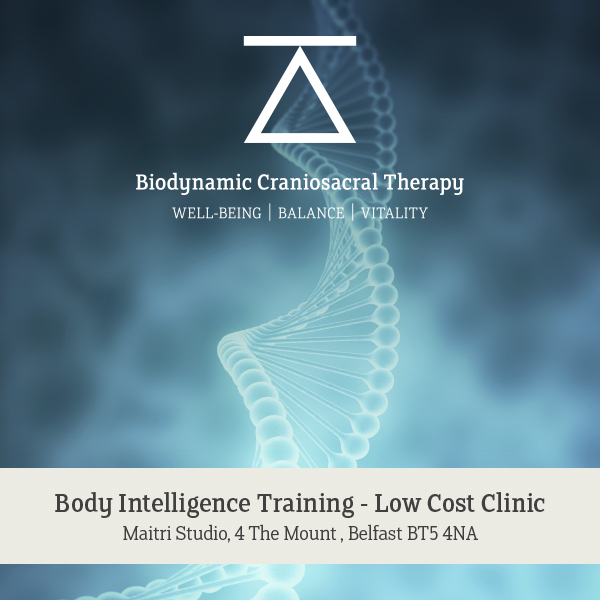 About Gareth
Gareth studied sport science and exercise physiology at undergraduate and postgraduate level (MSc), amassing 16 years experience collectively as a Physical Education (PE) teacher, sports performer and now complimenting these experiences with his passion for BCST, deepening his understanding of the science of the body. Primarily, his passion is supporting the ever-present health in our bodies and facilitating and educating clients to deepen their relationship with their body and surrounding environment.
Alongside his clinical practice, Gareth continues to support 11-16 year olds through his role as a PE teacher. He is a current tutor on Body Intelligence Dublin and works as a supervisor in the Dublin / Belfast low cost student clinics. Personally, movement and exercise is an integral part of his lifestyle and has been from a young age. At present yoga, trail running, swimming and gym are his main interests.
What is Biodynamic Craniosacral Therapy?
Biodynamic Craniosacral Therapy (BCST) is an amazing way of touching people's lives. We have a remarkable ability to creatively reorganize our wellness. The body can change and adjust from within itself, through its own body intelligence. All it needs is the right environment, which is supplied by the practitioner's guidance. BCST releases tensions, eases pain and encourages the body to balance and heal itself. It is deeply relaxing, subtle and increases physical vitality and well being and can bring about profound healing at all levels: physical, mental, and emotional. It has a remarkable effectiveness around a whole range of conditions including muscular pain, joint/sport injuries, allergies, sinusitis, digestive problems, sleep problems, anxiety and recovery from trauma.